We are proud to show off all of our
gymnasts

and their achievements!
(If you have any pictures you would like to share with us on the website,
please email them to office@taagymnastics.com)
2014 USAG Optional Season
Pictures of our Level 6 Optional Team as they compete this season.
2014 Acro Season

Boys Pre-Team
Pictures of our Boys Pre-Team as they train to get ready for competition
2013 TAAF Season
Pictures of our Team Girls at the meets from the 2013 TAAF Season!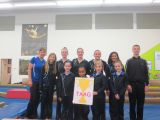 2013 Acro Season
Pictures from the 2013 Acro Season!
Photos - 1 to 12 of 12